Few of us respect or think about the fact that firefighters and law enforcement personnel lay their lives on the line every day for the good and protection of the general public-meaning you and me-we are the general public.
Yesterday I watched the services for firefighter, FAO Daryl Gordon. He had been a firefighter for 30 years, he was a husband, a father and active in his community.
and
he died in the line of duty in the early morning of Thursday, March 26, 2015 but in that line of duty he helped save 12 lives that morning. The other firefighters said the smoke was so thick they couldn't see. They had to crawl around to find the residents. FAO Daryl Gordon fell down an elevator shaft in the chaos.
I had the news on that morning when the announcement was made that a firefighter had been injured but everything stopped short of that till later when it was revealed how critical the situation was.
The tributes yesterday were very fitting for the service of this honorable man. Thousands of people lined the streets of Cincinnati, hundreds of local firefighters were a sea of blue and firefighters from all over the country came to Cincinnati to cover the duties of local firefighters attending the services.
Then three days after the fire that claimed the life of Daryl Gordon, a video captured another firefighter falling through the roof of a burning building. He is burned over 65% of his body with 3rd degree burns and fighting for his life.
He is Captain Pete Dern who has served his community for 25 years.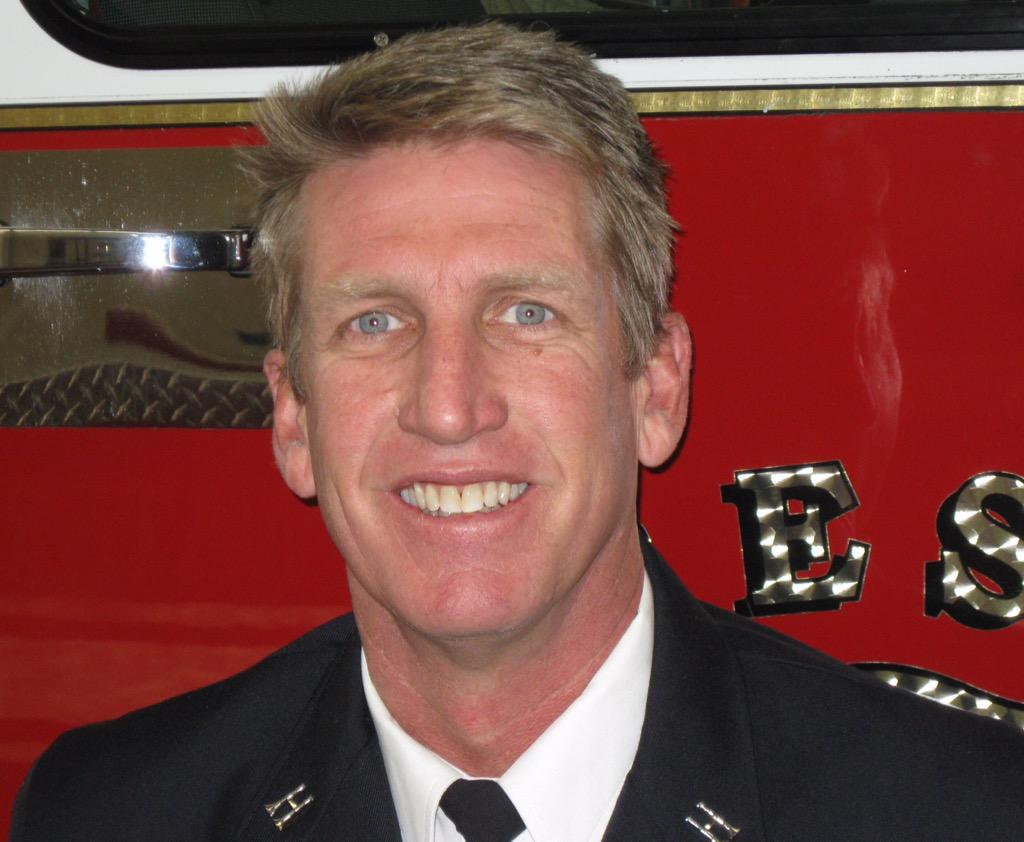 Many have dedicated their lives to this work, many have lost their lives to this work and this all hits home because my brother, Jim, retired a few years ago from the fire service. He became a firefighter after his stint in the Air Force to then serve as fire chief in several cities and retire from the Roanoke, Virginia department.
His son, Bobby, followed in his footsteps to also become a fireman.
In all those years I just never thought about the every day danger that is in this profession. A thought that has run through my mind occasionally is why anyone would choose to go into a job that sometimes in one of the most thankless jobs there is but as someone said about FAO Daryl Gordon yesterday-he loved it and Jim and Bobby love it, too.
You know, I always wondered about that brother of mine-don't let this cool, distinguished looking photo fool you, I grew up with him:
Jim had a wonderful career and is enjoying retirement to the max and we thank God for that. He is seeing his grandchildren grow and flourish but that is something Daryl Gordon will not be doing and maybe not Captain Pete Dern.
Won't you join me in praying for these and all our other protectors because that is what they are-protectors-and for their families who are in much grief and pain.
1

The

Lord

is my shepherd; I shall not want.

2

He maketh me to lie down in green pastures: he leadeth me beside the still waters.

3

He restoreth my soul: he leadeth me in the paths of righteousness for his name's sake.

4

Yea, though I walk through the valley of the shadow of death, I will fear no evil: for thou art with me; thy rod and thy staff they comfort me.

5

Thou preparest a table before me in the presence of mine enemies: thou anointest my head with oil; my cup runneth over.

6

Surely goodness and mercy shall follow me all the days of my life: and I will dwell in the house of the

Lord

for ever.
Psalms 23:1-6
God bless and keep you and all of yours